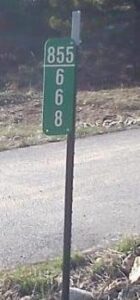 The Upper Fraser Valley Community Wildfire Protection Plan reported that Winter Park Highlands has a serious problem with missing or inadequate individual home address signage. This is a major safety issue. Inadequate or hard to read signage makes it much harder for rescue or fire personnel to find a home quickly in the event of an emergency. The CWPP recommends that every building have a permanently posted, reflective address marker mounted on a non-combustible pole. Signs should be made of fire-resistant materials (e.g. metal). The sign should be placed and maintained at each driveway entrance. Care should be taken to ensure that the location will not become obscured by vegetation, snow, or other features, whether natural or manmade. It is critical that the location and markings are adequate for easy night-time viewing.
As a benefit of membership in WPHA, the Association will install, at no charge to a member, a CWPP-compliant sign at the home of every member of the Association from 2011 forward. The signs have been installed in county right-of-way at the end of each driveway on the right side standing five feet above ground level (after clearing the installation sites with the county locator service). The horizontal number is the county road number and the vertical number is the house number.
Anyone who is not now a member of WPHA may obtain a sign as one of the many benefits of Association membership. Join here, or we will install a sign without membership for $50. Members receive a sticker on their signs identifying them as members. Click here to order a sign without joining; mail your $50 check to WPHA, PO Box 275, Tabernash CO 80478-0275.
To date 319 signs have been installed. Our sign has become the standard for the county and is now being adopted by other homeowner associations. In fact, it has received attention from other counties around the state. Get yours today!